African Climate & Energy in the Media
How do African and US journalists approach African climate and energy stories? Their challenges, the narratives they embrace (and avoid), and what they want readers to know.
Virtual Program
Thursday, October 13, 2022 | 12:00PM – 1:00PM ET
Tickets are free but registration is required in order to receive the Zoom link.
In partnership with The Energy for Growth Hub, The Africa Center is pleased to present a virtual discussion with Tim McDonnell, Josiane Kouagheu, Samuel Ajala, and Uzodinma Iweala on effective approaches to communicating climate and energy-related topics on the African continent. The news media plays a vital role in elevating the public's understanding of climate risks, energy crises, and emerging opportunities to embrace new solutions. But this poses a huge set of challenges for journalists: How do they make complex stories relatable? How do they capture attention without resorting to tired narratives about African vulnerability? How do they tackle Africa's changing role in global climate politics? And what changes based on the audience they're targeting?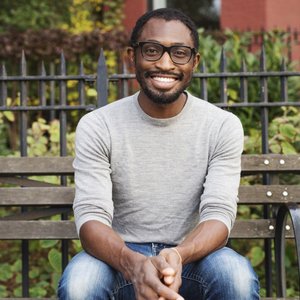 UZODINMA IWEALA
Uzodinma Iweala is an award-winning writer, filmmaker, and medical doctor. As the CEO of The Africa Center, he is dedicated to promoting new narratives about Africa and its Diaspora. Uzodinma was the CEO, Editor-In-Chief, and co-Founder of Ventures Africa magazine, a publication that covers the evolving business, policy, culture, and innovation spaces in Africa. His books include Beasts of No Nation, a novel released in 2005 to critical acclaim and adapted into a major motion picture; Our Kind of People, a non-fiction account of HIV/AIDS in Nigeria released in 2012; and Speak No Evil (2018), a novel about a queer first-generation Nigerian-American teen living in Washington, D.C. His short stories and essays have appeared in numerous publications like The New York Times Magazine, Vanity Fair, and The Paris Review among others. Uzodinma was also the founding CEO of the Private Sector Health Alliance of Nigeria, an organization that promotes private sector investment in health services and health innovation in Nigeria. He sits on the boards of the Sundance Institute, The International Rescue Committee, and the African Development Bank's Presidential Youth Advisory Group. A graduate of Harvard University and the Columbia University College of Physicians and Surgeons and a Fellow of The Radcliffe Institute at Harvard University, he lives in Brooklyn, New York.
Josiane Kouagheu is an award winning journalist based in Cameroon, who has covered the civil war, human rights abuses, and health issues for Le Monde Afrique, and Reuters, among others. She is currently a Fellow of The Rainforest Investigations Network (RIN) at The Pulitzer Center, which seeks to harness investigative reporting and cross-border collaboration to tackle stories at the intersection of climate change, corruption, and governance in the world's three main tropical rainforest regions: Amazon, Congo Basin, and Southeast Asia. In 2020 and 2021, she was a member of the International Consortium of Investigative Journalists (ICIJ) and worked on the global investigations FinCEN Files and the Pandora Papers.
SAMUEL AJALA
Samuel Ajala is a data and development journalist covering Nigeria's climate change, energy transition, and WASH. He is a 2022 Berlin Energy Transition Dialogue (BETD) Media Fellow and Future News Worldwide (FNW) delegate. He is a contributor at the Heinrich-Böll-Stiftung European Union; EnergyTransition platform to provide fresh content by spotlighting critical components of the varied energy transition plan of the Nigerian government. He also works as a freelance journalist, during which time his work has been featured in Dataphyte, Adweek, AllAfrica, The Nation (Nigeria), Premium Times, TheCable, HumAngle, The News Digest (Nigeria), and Campus Reporter publications.
TIM MCDONNELL                          
Tim is a climate and energy reporter at Quartz, based in Cairo, Egypt. He covers the intersection of climate change and politics, business, food, science, energy, and culture, in the U.S., sub-Saharan Africa, and elsewhere. He has worked previously for National Public Radio and Mother Jones, and spent a few years freelancing across sub-Saharan Africa and South Asia for National Geographic, The New York Times, and other outlets. He was a Fulbright-National Geographic Storytelling Fellow in 2016-2017, and a 2018 National Geographic Explorer. Tim is originally from Tucson and bakes a lot of bread.