Bread and the Contours of Capitalism
Virtual Program
Thursday, June 23, 2022
12:00PM – 1:30PM ET
In partnership with The Museum of Food and Drink and Alma | Lewis, join Tunde Wey and Uzodinma Iweala for a virtual discussion about the impact of geopolitics and racial capitalism on food production and consumption on the African continent. Using food as an entry point, this conversation will explore the contours of capitalism and trade around the systemic economic subordination of Africa.
Tunde will also introduce us to his agege bread project. Agege bread is a popular bread sold streetside throughout Lagos. The bread is not only for consumption, it is also art. More importantly, it is a commentary on the volatility of global commodity prices as a result of covid and the Russia Ukraine war. Specifically, a reminder of the uneven distribution of burden caused by these geopolitical events which cause disproportionate harm to The Continent.
Tickets are free but registration is required in order to receive the zoom link.
TUNDE WEY
Tunde Wey is a Nigerian immigrant artist, chef and writer working at the intersection of food and social politics. His work engages systems of exploitative power, particularly race, immigration, gentrification and global capitalism, from the vantage point of the marginalized other. He uses food and dining spaces to confront and close the disparities these inequalities create. Tunde's work has been written about in the New York Times, Washington Post, NPR, Vogue, and GQ. His own writing has been featured in the Boston Globe, Oxford American, CityLab, and the San Francisco Chronicle. He is a TIME Magazine 2019 Next Generation Leader and NYTimes 16 Black Chefs Changing Food in America 2019. He is the spring/summer 2022 artist-in-residence at ALMA|LEWIS, an experimental, contemporary art platform dedicated to Black culture, based in Pittsburgh, PA. Tunde is currently working on a book of essays slated for publish with MCD (a division of Farrar, Straus & Giroux).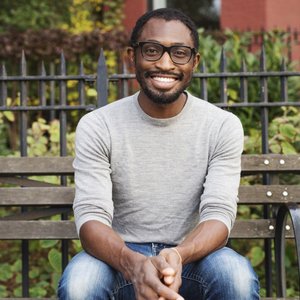 UZODINMA IWEALA
Uzodinma Iweala is an award-winning writer, filmmaker, and medical doctor. As the CEO of The Africa Center, he is dedicated to promoting new narratives about Africa and its Diaspora. Uzodinma was the CEO, Editor-In-Chief, and co-Founder of Ventures Africa magazine, a publication that covers the evolving business, policy, culture, and innovation spaces in Africa. His books include Beasts of No Nation, a novel released in 2005 to critical acclaim and adapted into a major motion picture; Our Kind of People, a non-fiction account of HIV/AIDS in Nigeria released in 2012; and Speak No Evil (2018), a novel about a queer first-generation Nigerian-American teen living in Washington, D.C. His short stories and essays have appeared in numerous publications like The New York Times Magazine, Vanity Fair, and The Paris Review among others. Uzodinma was also the founding CEO of the Private Sector Health Alliance of Nigeria, an organization that promotes private sector investment in health services and health innovation in Nigeria. He sits on the boards of the Sundance Institute, The International Rescue Committee, and the African Development Bank's Presidential Youth Advisory Group. A graduate of Harvard University and the Columbia University College of Physicians and Surgeons and a Fellow of The Radcliffe Institute at Harvard University, he lives in Brooklyn, New York.