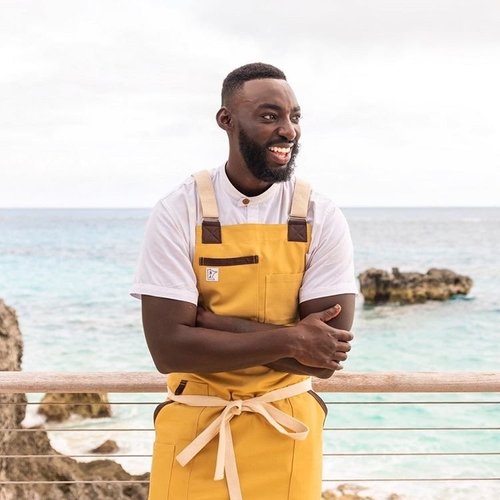 ERIC ADJEPONG
Eric Adjepong is a public health nutrition professional and chef based in Washington D.C. Previously a finalist on season 16 of Bravo's Top Chef, he earned the consistent acclaim from judges as well as popularity among viewers — and returned for season 17 of Top Chef All-Stars.
As a first-generation Ghanaian-American born and raised in New York City, Adjepong sources the flavors and influences in his cooking from many of the West African dishes he grew up eating. He is passionate about introducing diners to West African cuisine and the impact its diaspora has had on South American, Latin American, Caribbean, and American food, all in his elegant, artfully plated style.
In addition to launching his own private dinner party and event company, Adjepong has previously cooked in several Michelin-starred restaurants in New York after graduating with degrees in culinary arts and nutrition from Johnson & Wales, one of the country's premier culinary universities. He also holds a Master of Public Health in International Public Health Nutrition from the University of Westminster in London.
Pierre Thiam is a chef, author, and social activist best known for bringing West African cuisine to the global fine dining world. He is the Executive Chef of the award-winning restaurant Nok by Alara in Lagos, Nigeria and the Signature Chef of the five-star Pullman Hotel in Dakar, Senegal. He is also the executive chef and co-owner of Teranga, a fast-casual food chain from New York City. His foods company Yolélé advocates for smallholder farmers in the Sahel by opening new markets for crops grown in Africa; its signature product, Yolélé Fonio, is found in Whole Foods, Amazon, Target, Thrive Market, and other retailers across America.
Born and raised in Dakar, Senegal, Thiam's cooking style is at once modern and eclectic, rooted in the rich culinary traditions of West Africa. His newest cookbook, The Fonio Cookbook, was published in October 2019. His first two cookbooks, Yolélé! Recipes From the Heart of Senegal and Senegal: Modern Senegalese Recipes from the Source to the Bowl were finalists for several awards including the Julia Child Cookbook Award, the Gourmand Award in Paris, and the James Beard Award for Best International Cookbook.
Through his advocacy and many media appearances, he has become known as a culinary ambassador, dedicated to promoting West African cooking throughout the world. His TEDTalk, given at TEDGlobal 2017 in Arusha, Tanzania, has been viewed over one million times. He lives in El Cerrito, California with his wife Lisa, their daughter Na'ia, and dog Malcolm.
Korsha Wilson is a food writer and graduate of the Culinary Institute of America. She is the host of A Hungry Society, a podcast that takes a more inclusive and diverse look at the food world. She has written for numerous publications including the New York Times, Eater, Bon Appetit, Vogue, the New Yorker and Food & Wine. She is a 2019 Southern Foodways Alliance Smith fellow and was part of Jack Jones Literary Arts' inaugural #Culture,Too fellowship. In 2021, she hosted A Hungry Society presents Boundless Horizon, focusing on the story of African American foodways in collaboration with the Museum of Food and Drink. She's spoken on the topic of food and diversity as a guest on numerous podcasts and at conferences like SXSW and International Association of Culinary Professionals. She's obsessed with negronis, authentic Maryland crab cakes and french fries.