My America: Kwame Onwuachi in Conversation with Marcus Samuelsson
Organized with The Museum of Food and Drink
IN PERSON PROGRAM*
WITH VIRTUAL OPTION
Wednesday, May 25th, 2022
7:00PM – 8:30PM
The Africa Center at Aliko Dangote Hall
1280 Fifth Avenue New York, NY 10029 United States (
map
)
*This is an in-person event. You must show photo ID and proof of COVID vaccine to attend this event.
What is American food? In his first cookbook, Kwame Onwuachi, the acclaimed author of Notes from a Young Black Chef, shares the dishes of his America; dishes that show the true diversity of American food.
My America is a celebration of the food of the African Diaspora, as handed down through Onwuachi's own family history, spanning Nigeria to the Caribbean, the South to the Bronx, and beyond.
Joining Onwuachi in conversation is chef Marcus Samuelsson, whose legendary restaurant Red Rooster, celebrates the roots of American cuisine and seeks to tell the story of Harlem. Both chefs use cooking as a way to express their African heritage and trace their histories from the African continent to New York City.
Copies of MY AMERICA: Recipes from a Young Black Chef will be available for signature + purchase on the night of the event or can be ordered online from our bookstore partner, BEM.
KWAME ONWUACHI
KWAME ONWUACHI is a James Beard Award-winning chef, who was raised in the Bronx, Nigeria, and Louisiana. A former contest and now a recurring judge on Top Chef, Onwuachi has been named Esquire's Chef of the Year, one of Food & Wine's Best New Chefs, and a 30 Under 30 honoree by both Zagat and Forbes. He trained at the Culinary Institute of America and opened five restaurants before turning thirty. Onwuachi is the author of Notes from a Young Black Chef.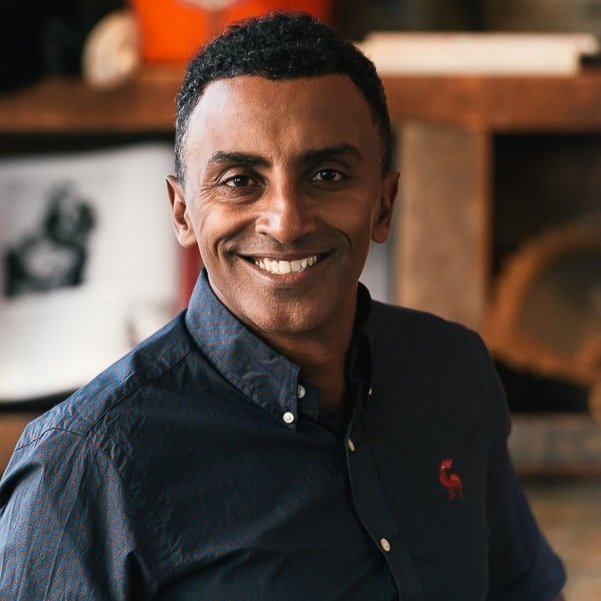 MARCUS SAMUELSSON
Marcus Samuelsson is the acclaimed chef behind many restaurants worldwide. He has won multiple James Beard Foundation awards for his work as a chef and as host of No Passport Required, his public television series with Vox/Eater. Samuelsson was crowned champion of Top Chef Masters and Chopped All Stars, and was the guest chef for President Obama's first state dinner. A committed philanthropist, Samuelsson is co-chair of Careers through Culinary Arts Program (C-CAP), which focuses on underserved youth. Author of several cookbooks, in addition to the New York Times bestselling memoir Yes, Chef, Samuelsson also co-produces the annual Harlem EatUp! festival, which celebrates the food, art, and culture of Harlem. During the COVID-19 pandemic, Samuelsson converted his restaurants Red Rooster Harlem, Marcus B&P in Newark, and Red Rooster Overtown in Miami into community kitchens in partnership with World Central Kitchen, serving over 200,000 meals to those in need. His podcast titled This Moment with Swedish rapper Timbuktu is out now. Samuelsson is co-author of the bestseller, The Rise: Black Cooks and the Soul of American Food with Osayi Endolyn.
Follow Samuelsson on Instagram, Facebook, and Twitter at @MarcusCooks.